This is my first time with Q-CHEM
I have included the input file at the bottom of this thread.
Might I ask why there is only result for Geometries, where is the result for Frequencies ?

Why the result for Geometries are all zeroes which seems entirely different from the Q-CHEM introductory slide ?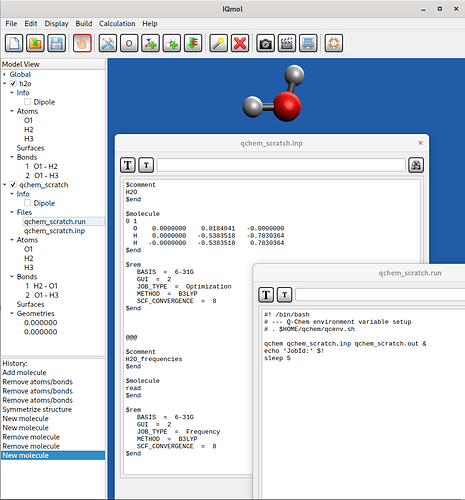 $comment
H2O
$end

$molecule
0 1
  O    0.0000000    0.0184041   -0.0000000
  H    0.0000000   -0.5383518   -0.7830364
  H   -0.0000000   -0.5383518    0.7830364
$end

$rem
   BASIS  =  6-31G
   GUI  =  2
   JOB_TYPE  =  Optimization
   METHOD  =  B3LYP
   SCF_CONVERGENCE  =  8
$end



@@@

$comment
H2O_frequencies
$end

$molecule
read
$end

$rem
   BASIS  =  6-31G
   GUI  =  2
   JOB_TYPE  =  Frequency
   METHOD  =  B3LYP
   SCF_CONVERGENCE  =  8
$end