Hello!
My calculations performed using SMD solvation model (QChem manual section 12.2.8.3 The SMD Model) are giving a cavity-dispersion-solvent structure free energy (G-CDS) of 0.0000 kcal/mol for O2 (and also with O and O3) in water with example output below. The resulting solvation free energy with a zero G-CDS differs from experimental values by ~2.5 kcal/mol.
The G-CDS and solvation free energies obtained when testing other molecules like methane or methanol match within 1 kcal/mol of the reference data reported the Minnesota group (who developed the model Minnesota Solvation Database (MNSOL) version 2012).
The solvent accessible surface areas are non-zero, so I do not expect a zero value for the G-CDS value (as defined in https://pubs.acs.org/doi/10.1021/jp810292n) unless the atomic surface tensions (defined therein; denoted sigma_k) are zero for O atoms.
Could you please advise why the G-CDS value is returning 0.0000 kcal/mol for these O calculations, and how I might obtain more accurate solvation energies?
I am using QChem 5.4.1
input parameters:
$molecule
0 3
O 0.5995474 0.1216532 0.0000000
O -0.7240777 -0.0241227 0.0000000
$end
$rem
BASIS = 6-311g++(2df,2p)
GUI = 2
JOB_TYPE = Optimization
METHOD = wB97M-V
SCF_CONVERGENCE = 7
THRESH = 12
Unrestricted = 1
Solvent_method = SMD
$end
output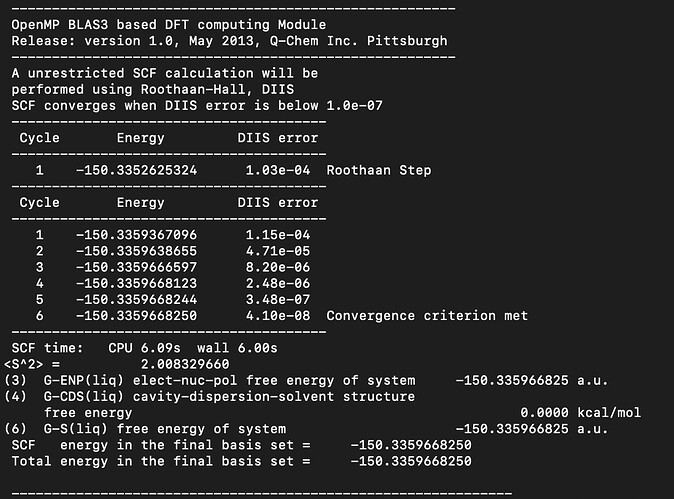 Thank you for any suggestions that you can offer!