Dear Qchem experts,
I'm new to qchem and am trying to calculate the vibrational frequencies of the first excited state for CaCH3 with EOM-EA-CCSD and I couldn't get rid of the negative frequency. I have also got the negative frequencies for CaOCH3 and CaNH2 while I could successfully calculate the FCFs of CaOCH2CH3. I guess it is probably because the geometry optimizetion converges to the saddle point. I have tried some commonly used trics such as tightening the convergence criteria and tweaking the geometry a little bit but that didn't help.
Any suggestion is very helpful. Thank you very much in advance.
I attached a screenshot of my output for frequency job.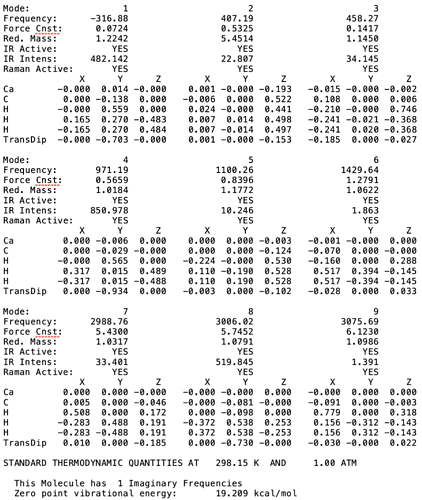 Here is my input file for geometry optimization:
$comment
optimization of first excited state (A2Pi), CaCH3
C, H: aug-ccpvdz
Ca: aug-ccpwcvdz-pp + ECP28MDF
$end
$molecule
1 1
Ca
C 1 2.346271
H 2 1.108071 1 112.062680
H 2 1.108071 1 112.062680 3 -120.000000 0
H 2 1.108071 1 112.062680 3 120.000000 0
$end
$rem
BASIS = GEN
ECP = GEN
PURECART = 11
GUI = 2
JOB_TYPE = Optimization
METHOD = EOM-CCSD
EA_STATES = [2]
CC_STATE_TO_OPT = [1,2]
SCF_CONVERGENCE = 9
SCF_MAX_CYCLES = 1000
CC_CONVERGENCE = 9
EOM_DAVIDSON_CONVERGENCE = 9
GEOM_OPT_TOL_GRADIENT = 1
GEOM_OPT_TOL_DISPLACEMENT = 1
GEOM_OPT_TOL_ENERGY = 1
SYM_IGNORE = TRUE
$end
$basis
…